Home /
Best Ski Resorts for Intermediate Skiers
Best Ski Resorts for Intermediate Skiers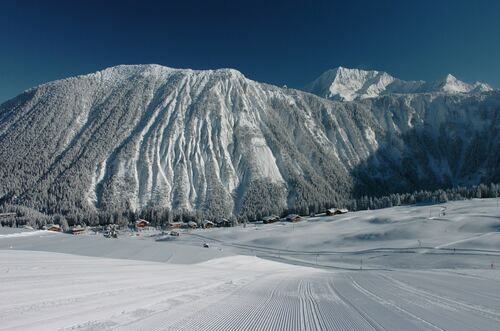 If you have progressed off the beginner slopes but are yet to feel confident on steeper runs or off-piste terrain then you are what is called 'an intermediate skier' (or snowboarder). Some people reach this stage after just two weeks on snow - thanks to the modern skis which make for a steep learning curve.
As they progress in ability intermediate skiers and boarders will cover the ground quicker and find that they can travel longer and longer distances without getting tired. With modern lifts getting skiers up the mountain with more and more efficiency skiers need a large ski area so they don't find themselves repeating the same runs over and over. However, with so many resorts in the Alps to choose from it's a tough ask to pick the best ski resorts for intermediate skiers and boarders.
As a rough rule of thumb we recommend that if you are an intermediate skier/boarder and like to cruise the groomed slopes that you look at ski resorts with at least 200km of pistes. Smaller resorts can also be considered but they will need to offer something other than just their ski area. Contrary to what you might think 'expert skiers' do not need large resorts as they have the ability to ski almost anywhere on the mountain. Skiing off-piste makes even a small resort, with a limited number of pisted runs, seem huge. For example with endless options on your chosen route down the mountain Andermatt, in Switzerland, with only 74km of pistes is plenty big enough for a week's holiday for an expert skier.
We sell ski holidays to nearly 150 separate resorts and ninety of these offer more than 200km of pistes. So, which of these ski resorts should an intermediate skier choose? The simple answer is that we need to consider resort attributes other than simply the size (or rather length) of the pisted ski area. We have grouped our recommended ski resorts for intermediate skiers into five different categories.
Charming and atmospheric ski resorts best for intermediate skiers
View charming and atmospheric ski resorts best for intermediate skiers
Ski resorts that were towns or villages long before skiing was even thought of offer bags of charm and atmosphere. The pedestrian and cobbled streets, lined with ancient chalets and old hotels, in resorts like Zermatt, Megeve, Kitzbuhel are wonderfully traditional and have real 'alpine' appeal. However, the ski lifts are located on the outskirts of these towns which usually means bussing to and from your accommodation. For some the pay-off for enjoying the charm and tradition of a resort is well worth the inconvenience of the getting around.
Ski resorts with après ski and nightlife best for intermediate skiers
View ski resorts with après ski and nightlife best for intermediate skiers
Let's not be too ageist about this but if you are younger than 40 then getting stuck into the après ski scene immediately after skiing is going to be important. Partying immediately off the slopes used to be the preserve of the Austrian resorts where the largely German speaking clientele would be pretty adept at knocking back large steins of beer, dancing on tables in their ski boots and singing loudly along with the enthusiastic 'umpah' bands. However, the growth of the 'Folie Douce' franchise in France has meant that in recent years there are plenty of French resorts with their own brand of hardcore après ski. Those with stamina might want to hit the resort centre after dinner and party on till the early hours of the morning. Nightlife in bars and nightclubs can rock through night until 3am in some resorts. You might not be in a good state in the morning but there is nothing like the clear mountain air and blast down the slopes to clear a woolly head.
Best ski resorts with fine dining for intermediate skiers
View ski resorts with fine dining that are best for intermediate skiers
At some point in life (we're not sure if it's a product of age or disposable income) you will discover that good eating is one of the most enjoyable pleasures of life. Throw some wonderful mountain scenery, the company of close friends or family and a morning of useful exercise into the mix and you have the perfect scenario to enjoy some serious 'bonne viveur-ing'. Certain resorts in the Alps have collected more Michelin starred restaurants than their size should ordinarily allow. These foodie hot spots are perfect for intermediate skiers who like a few hours good skiing in the morning followed by some even better hours tucking into some sumptious haute cuisine delights.
Ski in ski out resorts best for intermediates
View ski resorts with easy access to the ski area for intermediate skiers
For some intermediate skiers and boarders there is nothing better than simply hitting the slopes and clocking up the miles. Catching the first lift is 'de rigueur' and finishing skiing for the day only happens when the lifts close at the end of the day. Lunch is only required to fuel up and any time spent sitting at a table is time wasted - cafeteria style eateries work best as their slick efficiency allows for minimum wasted ski time. For the super keen intermediate skiers who are soring up the learning curve of mastering their carved turns and flashing a bit of style in the park, finding a resort with easy access to and from the ski area is vital. They don't want to walk or catch a slow bus in order to reach the main lifts in the morning. And when they do get to the lifts they don't want to find any old slow chairlift or inefficient cable car - way too much valuable skiing time could be squandered. For ease of access to and from the skiing these keen intermediate skiers need a purpose-built resort with an ultra modern lift infrastructure. In these resorts the accommodation will largely be ski in ski out, and state of the art telecabine gondolas and detachable highspeed chairlifts (without queues) will whisk them up the mountain in no time at all.
Best resorts with short airport transfers for intermediate skiers
View ski resorts with short airport transfers best for intermediate skiers
Despite huge advances in technology over the last two decades travelling to the Alps is still a long day's travel in anyone's book. There is a minimum two hour check-in time at UK airports, then the inevitable flight delay and at least an hour at the other end to negotiate customs and collect luggage from the carousel. Factor in a potential two hour journey to reach your UK destination airport and the one and a half hour flight time and you have taken 7.50 hours to journey from your home to exiting the airport at the other end. Then there is the transfer time to resort to factor in. If you add 3 hours (longer on a busy weekend) from Geneva to the high altitude French resorts of the Tarentaise Valley you have a total journey time (home to resort) of 10.50 to 11.00 hours. Which ever way you look at it flying to the Alps is not as quick as you think. For some cutting the resort transfer time down to a minimum makes a big difference - children arrive in resort before they get too tired, ski hire shops are still open and there might still be daylight in the resort allowing you to get your bearings.