Home /
Ski Goggles and Sunglasses
Ski Goggles and Sunglasses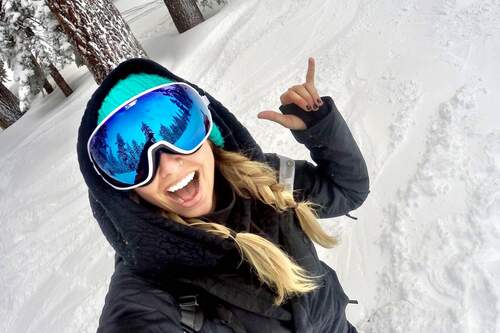 Ski goggles or sunglasses - which to wear? It is vital to wear one or the other type of eye protection but which is up to you. We recommend that you wear whichever you feel most comfortable in. In snowy conditions it is better to wear goggles as they keep the snow out and give you far better vision while still protecting your eyes from the sun's harmful UV rays.
Ski goggles are a lot more sophisticated in design than they used to be and the new technology means you can maximise your vision in a variety of different light conditions. They do not steam up and you can even buy OTG (over the glasses) goggles to wear over the top of your normal prescription glasses. Transition lenses are photo chromatic and allow greater or lesser amounts of light to hit the eye depending on the ambient light conditions.
UV radiation in the mountains
Fact: Harmful Ultraviolet radiation increases by 10%-12% with every 1,000 metres of vertical ascent. With a less dense atmosphere to filter out the harmful UV rays the higher the altitude the more UV light you are exposed to.
Sunglasses are fine in good weather but if you ski or snowboard at speed you will find that the airflow will cause your eyes to water, seriously affecting your vision. Sunglasses are also far more likely to fall off and break if you fall.
We recommend Oakley for both sunglasses and goggles. The technology used in the manufacture of their lenses is second to none. Their products offer unrivalled durability, protection and lens quality. Oakley Flight Deck goggles are fantastic. They offer huge amounts of peripheral vision in nearly all light conditions and hardly ever steam up.
Ski goggles and sun glasses - top tips
Wear your goggles or sunglasses as much as possible. Rest them on your head and your body heat will cause a large temperature difference between the inside and outside layer of the lens causing them to fog/steam up.
Avoid touching the lenses, especially on the inside. This will wipe off the anti-fog coatings on the lens and they will eventually stop working. If you need to clean them use a proper, non abrasive, lens cloth.
When using a lens cloth try and dab rather than wipe to avoid scratching and removing the special coating. Scratches in and around your immediate field of vision are incredibly annoying.
If you carry spare lenses for different light conditions make sure they are carried in a safe place where they will not get broken in a fall.
Avoid the dreaded 'punter gap' between helmet and the top of your goggles/sunglasses.